LET'S TALK ABOUT ENERGY!
Leave a Comment
A new project starts in summer 2018, which will go along with us in the next years. In this article you will get to know what it is about, what you can expect and how you can bring forward your own ideas.
Storage technologies, renewable energies and joint energy grids – energy systems become more complex in future. The electricity in the socket doesn't have to come from a power plant anymore. Do we all become so called prosumers, who produce electricity themselves and live in smart homes?
The energy transition is coming, but the changes give rise to several questions. This huge and ambitious project can't be realized without public understanding and involvement. Everyone has to be informed about it in order that we can pull together. This is why an exchange of knowledge about the energy transition with contribution of district future will be started.
As a result of the experience we gained in the real-world labs district future and real-world lab 131 during the last years, we were able to acquire this new project!
Welcome Energy Transformation in Dialogue!
First this new project (called "energy dialogue" in short) becomes a part of district future; later it will be a mainstay for the Karlsruhe Transformation Centre for Sustainable Futures and Cultural Change (KAT), which we described here already. The funding for energy dialogue is guaranteed for 30 months. After 2 years the project's success is investigated and the time period will – hopefully – be extended to 4 years.
The aim of the project is clear: We want to make the transformation of the German energy system intelligible to all in a new way and create new possibilities for participation at the same time. Therefore we will organise this dialogue, provide information and bring different actors together.
So far, so good, but how does that work in concrete terms?
It is not yet set in stone, but you can already look forward to plenty of videos with information and explanations, a tour about sustainable energy, a handful of scenario workshops, some transdisciplinary and transformative project seminars, real-world experiments and one citizen's forum on sustainable energy. We don't want a one-way communication. We want to impart knowledge, but on the same time gather your ideas and bring them in the scientific world.
One workshop could be for example for low-income households, where we get to know your expectations and fears related to the energy transition and work out suggestions for improvement together.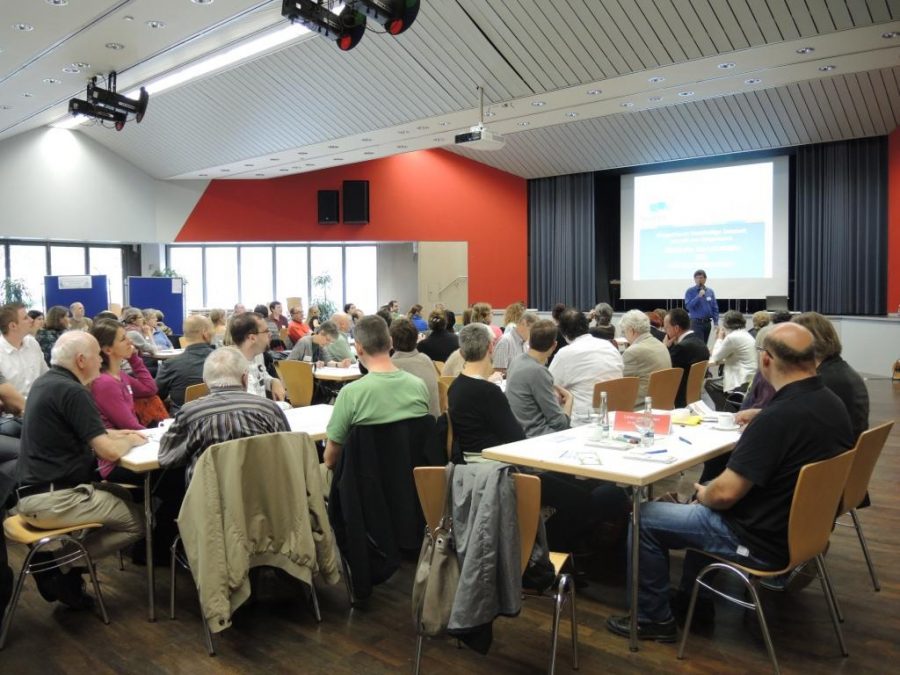 Different activities – different target groups!
With this project we extent our target group to the whole city of Karlsruhe and beyond. Some parts can be used in the whole German-speaking world. Nevertheless some activities will still take place in Karlsruhe and the eastern town.
The target group is as diverse as the activities. The different subprojects can address both the public and specific groups of players, for example representatives of the energy industry, players of the civil society or consumers' associations, as well as teachers, energy advisors, students, early adopters, and so on.
Do district future and the future space stay?
Does that mean we realigned and are not present in the district anymore? No, don't worry. As described above – the project energy dialogue becomes a part of district future now and builds a mainstay of KAT from 2020 on. Like that it will provide us even more opportunities to encourage a sustainable development and die energy transition together with you, the citizens of the eastern town. The future space will also be available as is usual for group meetings, events and communication.
When does it start?
The planning and preparation for the variety of activities start now. Next year, in 2019, several plans will be realised. Until then you need to be patient, but we will keep you informed!
You can participate!
Do you have an idea for a project or an activity, which we should not forget? It doesn't matter, if you are a single person or want to get involved with your group – form the energy dialogue with us together! If you are interested, contact volker.stelzer@kit.edu.
We look forward to an interesting time with you and energy dialogue!